Ik schreef eerder over handige formules om namen in Excel mee te splitsen. Als je Excel 2013 of een nieuwere  versie gebruikt, is er nog een optie die je kunt gebruiken: Flash Fill (Snel aanvullen). Daar komt geen formule aan te pas. Je hoeft voor de eerste 2 of 3 cellen alleen maar voor te doen wat er in de kolom of rij moet komen te staan en Excel doet de rest.
Splitsen met een knopje
Je vindt de optie onder het tabblad Gegevens:
In het voorbeeld hieronder heb ik een lijstje namen geplakt in de eerste kolom. In elke kolom daarna heb ik steeds de eerste twee cellen ingevuld. Als ik daarna in de derde cel ging staan en op Flash Fill klikte, werd de rest ingevuld.
Dubbele achternamen vormen nog steeds een uitdaging, zoals je in de laatste 2 kolommen ziet. Maar de simpele splitsing voornaam/achternaam gaat als een zonnetje.
Microsoft legt de opties uit in dit filmpje (opent in nieuw venster):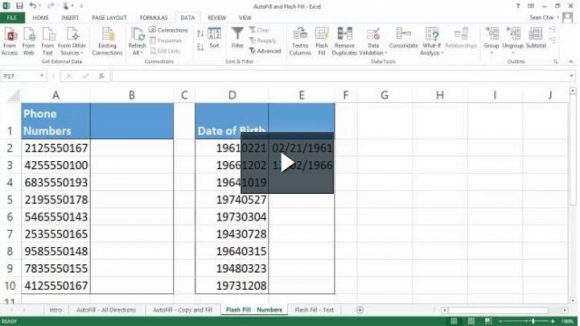 In de video zie je steeds een mooie voorbeeldweergave. Die kwam bij mij (Office 365) niet altijd in beeld. Maar verder gebeurde alles wat moest gebeuren. We kunnen weer fijn gegevens gaan verwerken!
Benieuwd naar de mogelijkheden van formules? Bekijk dan mijn eerdere stukje over het splitsen van namen in Excel.
Summary

Article Name
Namen splitsen in Excel: Flash fill
Description
Je kunt eenvoudig namen splitsen in Excel met Flash Fill.
Author